Fundraising for Hope: Help Us Host Resource Fairs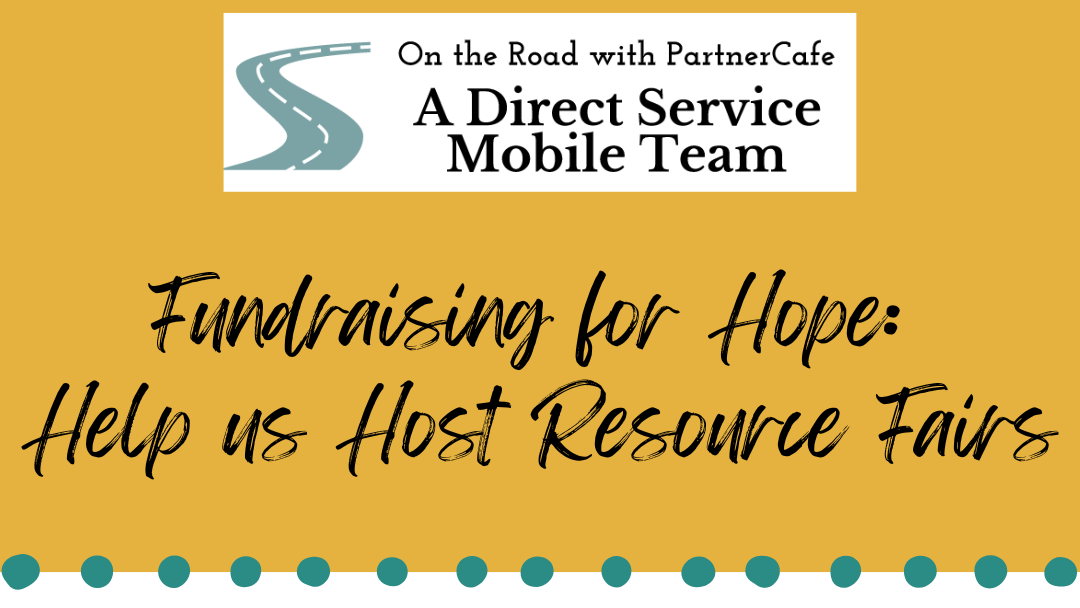 Help us raise funds, so that we can host bigger and better Community Resource Fairs!
$1,620
raised by 19 people
$5,000 goal
On The Road with PartnerCafe is a nonprofit that connects people to Community Services. We do this by traveling into underserved communities and sharing information and resources with the people who live there. Currently, our goal is to host several Community Resource Fairs in Pierce and Thurston County for 2023. We have a long list of Community Partners that have signed up to collaborate with us and we invite them to join us at our Resource Fairs. Together, we are a one stop shop for people seeking social services. Someone who attends one of our resource fairs can get one on one assistance signing up for health insurance, connecting with mental health organizations, finding transportation, housing, senior services, youth services, disability resources, and more!
We have a small, but mighty team, and have been able to organize and host two of our "Under the Big Top" Community Resource Fairs. Each fair had about 45-50 vendor organizations and a free vaccine clinic hosted by the WA Dept. of Health's Care-A-Van team. We've also collaborated with The Moore Wright Group to fill out giveaway bags so that people who attend our events can walk away with some helpful items, completely free of charge. Like, Covid tests, Mircroban spray, disinfecting wipes, socks, and small trinkets for kids. 
Our events bring people hope. 
Not everyone has access to the internet, or has the skills to navigate through all the different forms, paperwork and organizations that are out there. There are many people who may not even know that resources exist, and that they could benefit!  
We want to change that. 
Everyone deserves to live a decent life. On The Road with PartnerCafe exists to connect people, walking alongside them and making sure they have access to the information and resources they need and breaking down the barriers that keep people from getting the help they deserve. 
Please, join us! Help us turn our vision into reality! Help us provide hope to people who are struggling in our communities! Reaching our goal of $5,000 means that we can double our current efforts and have the funding to secure more event spaces at once, instead of one at a time. We would like to add at least 5 more Community Resource Fairs to our calendar in 2023, and a donation from you would help us make that goal a reality. 
A little History…
PartnerCafe-Bridging the Gap across Sectors is where it all began. PartnerCafe was created in 2012. Program Managers, Directors and Executive Directors representing a cross section of social and community concerns came together to discuss what was happening in their respective organization/agency. We ask 4 questions: 1) What do you have? 2) What do you want? 3) What do you need? & the most important is the "ask", 4) How can the group help? What we learned was the significance of our interdependence. We are inextricably connected at our core missions.
From that On the Road with PartnerCafe was born in 2020 to take action and address the community needs and gaps in service discussed at PartnerCafe meetings.  We responded to the information and turned it into action and urgency...that's who we are. We go anywhere to reach anyone in need. We hope when you visit our website, you leave with a clear sense of who we are and why what we do transforms lives, especially our own.