One Heart One Home New Building Campaign
Help us build our Asia Pacific Cultural Center's new and permanent home!
$52,987
raised by 114 people
$150,000 goal
One Team, One Goal! APCC'S Board Campaign
Update posted 16 days ago
Did you know that this campaign is also being supported by our amazing APCC board members? Our board members have joined forces to help raise funds for our community campaign, One Heart One Home! Their efforts combined with our community donations from this page are helping APCC reach our goal.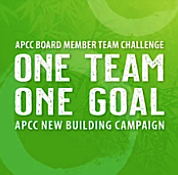 Check out our board member's campaign page, One Team One Goal to learn more.
Support APCC's family of Asian and Pacific Islander heritage to raise the remaining budget to build our home. We are currently doing a capital campaign to raise $9.8 million for our building project and have already raised some of this funding from government contributions, foundations, corporate, and individual donors.
Now, we need your support to raise the remaining budget of $150,000!
Be a part of a history-in-the-making endeavor to build a new and expanded APCC home facility with a capacity to reach out and attract over 300,000 annual visitors and participants from throughout the state, the country, and perhaps the world! In coordination with Metro Parks, APCC's new home will be a cultural destination for people to gather, learn and experience Asian and Pacific Islander culture and heritage.
In this new home, we will have
Arts Gallery
Performing Arts center
Welcome Center
Corridor of Nations
Community Gift Shop
Culinary Demonstration Kitchen
Asia Pacific Garden
Asia Pacific Library
Community Courtyard
Multiple rooms for meetings and conferences
"Let us build this bridge together with one HEART to make for a brighter and promising future for all." –Lua Pritchard, Executive Director
To see the proposed floor plan, please click here.
For more information about our partnership with Metro Parks, click here.